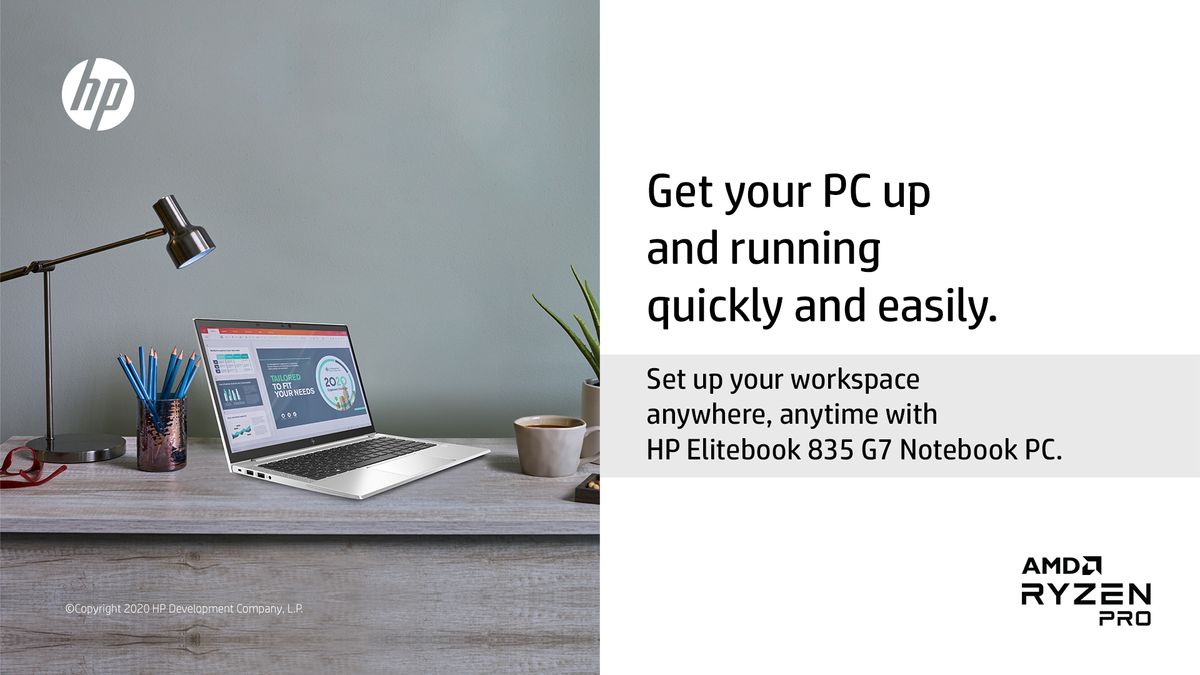 [ad_1]

Work from home was relatively a new term for many. However, now that most of us are getting used to the "new normal," remote working will become an indispensable part of our lifestyle. One of the most critical elements of remote working is a laptop that can help you complete the tasks effortlessly.
For such users who look for features like performance, enhanced security, premium design, all encased in a sleek body, HP has recently unveiled the HP PROBOOK x360 435 G7.
Priced under rupees one lakh, this business PC accompanies a full suite of privacy-focused features that ensures that your data is safe from the prying eyes of interlopers.
Click here to buy the HP PROBOOK x360 435 G7
Design elements
The HP ProBook x360 435 G7 has been designed keeping in durability and portability in mind. It comes with a 360-degree hinge that lets you use the laptop as a tablet making it ideal for media and entertainment as well as for presentations.
The HP ProBook x360 435 G7 outshines its predecessors with the sheer number of improvements that have made the laptop thinner, lighter, and more powerful. At just 17.95mm of thickness and a 13.3-inch display, it is indeed one of the more preferred portable devices. While HP does not boast it to be one of the lightest convertible laptops available in the market, it does come with generous use of anodized aluminum that offers it the strength against frequent daily use.
The convertible laptop comes with an HP Pro Pen that is extremely useful in taking notes during meetings, quickly annotating reports or even helps you bring your inner Picasso in your free time or between meetings. To keep the display intact from scratches and smudges, the HP ProBook x360 435 G7 comes with a Gorilla Glass 5 protection.
There is a built-in webcam that comes with a little physical security slider that is helpful enough in keeping snoopers away. Users can opt for an additional 'world facing camera' and is specifically useful in capturing the world around you while using the laptop in tablet mode.
There are no sharp edges on the outer shell of the laptop and the HP logo on the outer Aluminum lid makes it look all the more stylish. The fact that the HP ProBook x360 435 G7 has successfully gone through 19 different MIL-STD 810G tests, 7 more than its competitors, vouches for the rugged build quality of the laptop.
Connectivity features 
Talking about the connectivity and ports, the HP PROBOOK x360 435 G7 has got it all covered and comes loaded with adequate ports required for a premium business laptop.
It has 2 USB 3.1 Gen 1 out of which 1 slot supports charging, 1 USB 3.1 Type-C Gen 1 (Power Delivery, DisplayPort™), a headphone/microphone combo for the all-important video calls and a standard HDMI port. The presence of a USB 3.1 charging port ensures that you can remove extra charging cables from your travelling bag. There is a microSD card slot as well as a nano security lock slot. Presence of Wi-fi 6(optional) and Bluetooth 5 takes care of the wireless connectivity.
Detailed Specs 
Unlike few business laptops in the market, the HP ProBook x360 435 G7 does not cut corners when it comes to specifications. The ProBook x360 435 G7 – comes with the all-new AMD Ryzen™ 4000 series mobile processor with an option to choose between Ryzen 7 4700U Octa-Core APU, Ryzen 5 4500U Hexa Core APU and Ryzen 3 4300U Quad-Core APU.  
The ProBook x360 435 G7 powered by AMD Ryzen™ 4000 Series Mobile Processors outperforms the competition in terms of raw performance, energy efficiency, battery backup and price. It turns out to be a versatile device that can perform various tasks according to the need of the hour.
Aside, the laptop comes with a dual-channel 16 GB of DDR4 RAM out of the box while there is one more slot available for memory expansion in case one requires more memory.
The ProBook x360 435 G7 has three different options available when it comes to the display. The 13.3-inch FHD IPS touch-screen display offers a resolution of 1920*1080 pixels. The variation is available in terms of brightness as the offerings start at 250 nits and go all the way up to 1000 nits.
In terms of internal storage, the laptop comes with up to 1TB NVMe M.2 SSD offering blazing fast read and write speeds. Other storage options include 256 GB NVMe M.2 SSD upgradeable up to 1 TB and 128 GB M.2 SATA SSD.
Performance and Battery Power 
This new convertible laptop from HP is powered by the latest AMD Ryzen™ 4000 Series Mobile Processors. Built on the advanced 7nm technology and optimized "Zen 2" architecture, AMD Ryzen™ 4000 Series Mobile Processors enable unprecedented levels of performance for enhanced productivity and exceptional battery life – up to 2X the performance-per-watt when compared to our previous generation processors. This helps in keeping the laptops "thin and light" in turn making them the perfect stylish power horse that is required for a business user.
With the help of this thin yet rugged laptop, users can complete a range of tasks which includes basic day to day operations like creating presentations, multi-tasking while working on large documents and spreadsheets to extreme resource-hungry tasks like image editing, video editing and rendering etc.
The six to eight cores of content creation power weave its magic and as a result, all the applications in the Adobe suite work flawlessly on the laptop. According to a comparison, the Ryzen 4000U processor can encode a 4K movie trailer 29% faster than its competition.
The HP ProBook x360 435 G7 comes with a 3-cell 45 WH Li-Ion polymer battery that is good enough for a day of work usage. While the processor used in the laptop is built on a 7nm process which drains less power compared to other processors, the HP Fast Charge technology that charges the laptop from 0 to 50% in less than 30 minutes, comes to the rescue when you're using the laptop for power hogging tasks like video editing, long presentations, or media consumption.
Privacy and security 
To be considered a worthy business laptop, user privacy and data security should be among the highest priority apart from the top of the line specifications. The HP ProBook x360 435 G7 scores high on this aspect too. The laptop comes with enterprise-grade security features that keep the laptop secured from the hackers and interlopers.
There is a feature called self-healing BIOS that helps the laptop recover automatically in case of a firmware level attack or disk failures without even needing to get in touch with the IT or support staff, resulting in practically zero-downtime. Additional features like a physical webcam shutter, AI-based malware protection, integrated privacy protection screen, and a biometric user authentication system, which are optional to users and come at an extra cost.
Final verdict 
The HP ProBook x360 435 G7 is a windows-based business laptop that brings forth the best of design, productivity and privacy. The laptop is aimed at business users, who do not like to carry bulky devices along with them yet with no compromises on the performance. Apart from the sturdy build, the slew of security tools makes this a perfect device to help you collaborate and work remotely with ease. 
With the multitasking capabilities offered by the powerful AMD Ryzen™ 4000 Series Mobile Processors coupled with powerful integrated AMD Radeon™ graphics and ultrafast RAM, the ProBook x360 is amongst the most stylish, powerful yet lightweight business laptops that one can find.
Be unstoppable with this feature-rich laptop that has the right technology and the capability to ensure that you can continue to grow your business. Enjoy uninterrupted, on-the-go, secure and easy work, come what may.
[ad_2]

Source link