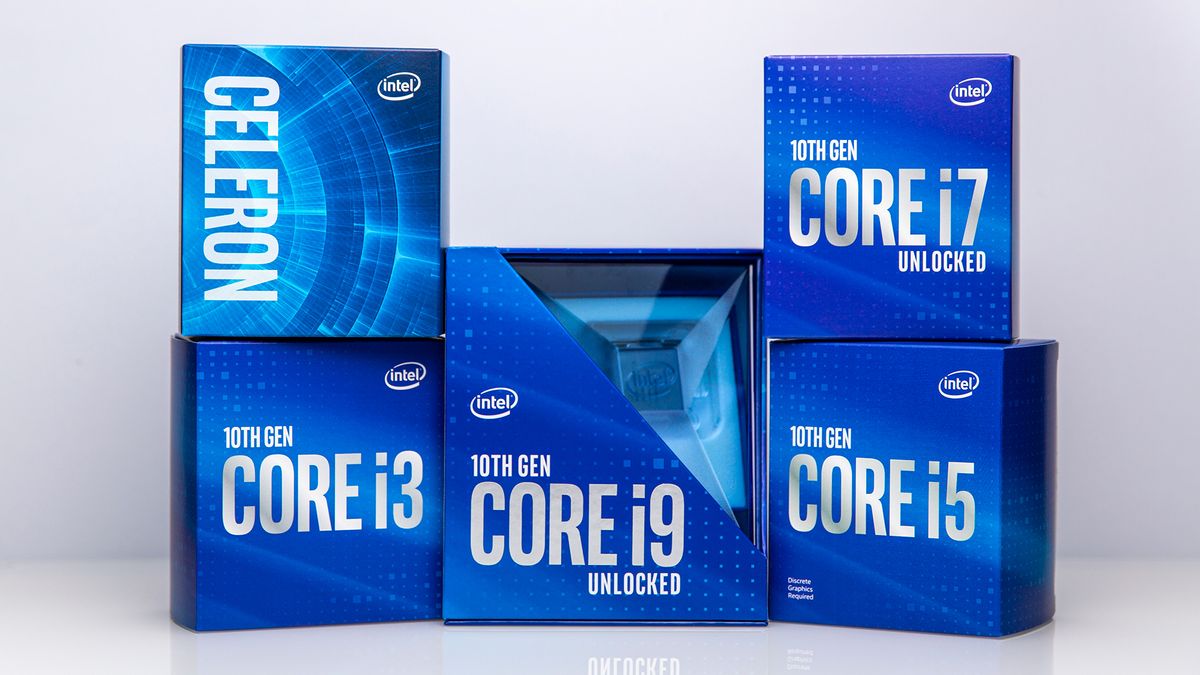 [ad_1]

Sponsored by Intel® Australia.
We gamers are always looking out for better performance. Everyone wants higher and smoother gaming frame rates, whether they're on a desktop or a laptop. Productivity matters too of course, along with key factors such as longer battery life and faster connectivity. Whatever your task, there's an Intel Core 10th Gen CPU to suit you. We'll start with an overview of the Intel Core 10th Gen range before showing off some truly stunning gaming laptops and desktops.
There are more PC gamers than ever. Whether you're a serious competitor or just like a bit of fun during your downtime, there's no better time to upgrade to an Intel Core 10th Gen system. The ongoing Covid-19 pandemic is a challenge for many, but it's also changing our working and gaming habits. Juggling work and recreation with the need to multitask more than ever before requires a powerful system, and Intel's 10th-generation CPUs along with their class-leading connectivity features are perfectly suited to modern gaming and working needs.
Let's begin with an overview of the Intel Core 10th Gen CPU range. They come in three families. There are the mainstream desktop CPUs, high-end desktop CPUs and mobile CPUs. Intel 10th-generation families feature Core i branding, with Core i3 models aimed at budget users, then Core i5, Core i7 and finally the highest performing Core i9 models.
Gaming on the go
Let's take a closer look at Intel Core 10th Gen mobile CPUs. Mobile CPUs are divided into different categories based on their power consumption. The ones you'll find in powerful gaming laptops are Intel® Core™ H-series CPUs.
Thanks to the high frequencies of these processors, the performance of the top H models can match that of desktop CPUs, despite using a fraction of the power. When it comes to gaming, frequency matters. Games are simply not optimised to run on low frequency, very-high core-count CPUs. With this in mind, Intel Core 10th Gen processors feature the perfect blend of high frequency and optimised core count. A six- or eight-core Intel Core H CPU with a very high frequency and low latency will deliver an unmatched mobile gaming experience, with higher minimum and average frame rates.
Next up are Intel® Core™ U CPUs. These processors are typically found in lightweight and Ultrabook-class laptops. They are optimised for low power consumption, yet still have the ability to boost to high levels when peak performance is required. If you're a frequent traveler or move frequently between your home, uni, or your workplace, then a Intel Core 10th Gen notebook with a Intel Core U-series CPU will provide you with a great blend of performance that's light and easily transportable, with Wi-Fi 6 connectivity and all day battery life. The most power-thrifty Intel Core 10th-generation CPUs come from the Intel Core Y series. These are found in ultra-portable devices.
Maximum gaming power
That brings us to the desktop CPU range. If you want maximum gaming performance then you'll be best served by a desktop class CPU. They feature a perfect balance of high frequency and multiple cores. Intel has raised the bar when it comes to processor speed. Intel's Thermal Velocity Boost™ enables processor speeds of up to 5.3GHz out of the box.
You don't have to go all the way up to an Intel® Core™ i9-10900K though, even the likes of an affordable Intel® Core™ i5-10400 will provide class leading gaming performance. Its six cores and 12 threads can boost to well above 4GHz. Pair an Intel Core 10th Gen processor with an Intel® Z490 motherboard and you'll be able to run fast memory too.
These are the keys to the best-performing and most-responsive gaming systems: High frequencies, many cores and fast memory. That's not all though. Intel® K series processors can be overclocked for even better performance.
10th Gen Intel® B460, Intel® H470 and Intel® Z490 motherboards also fully support Intel's Optane™ SSD technology, which delivers fast and low latency storage. CPU performance and fast storage work together to deliver a supremely responsive system that's perfect for gamers. Many Intel® 10th Gen motherboards also come with Wi-Fi 6 and 2.5Gbps Ethernet.
Why a good CPU matters
Now that we've introduced you to the Intel Core 10th Gen CPU family, let's take a look at why a fast CPU is important for gaming. In short it's all about maximising your frames per second while maintaining a smooth, responsive and lag-free gaming experience. A laggy slide show is a gamers' curse and it tends to happen when you have a lot of action on screen. An Intel Core 10th Gen CPU will boost your minimum FPS under that kind of scenario as well as your average FPS, giving you the best possible gaming experience.
Modern games are increasingly making use of more cores. As time goes on, a dual or quad core from yesteryear will struggle to deliver decent baseline performance. This is where something like a 10th Gen Intel® Core™ i3 or Intel® Core™ i5 with their Hyperthreading support is a big step up from 8th or 9th generation Intel® Core™ i3 and Intel® Core™ i5 CPUs.
What if you want to do more though? Gaming places a high load on a CPU, but thanks to the multi-core architecture of Intel Core 10th Gen CPUs, an Intel Core i7 or Intel Core i9 processor lets you do more. With one of these it's possible to game, stream or record all at the same time.
Gamers all around the world will testify to the importance of a quality gaming monitor. The rise of high refresh rate monitors further emphasises the need for a fast CPU. Any old CPU might be capable of 60fps gaming, but can it do 120 or 240fps? To achieve maximum FPS, you need the fastest gaming CPUs. It's an absolute requirement for modern shooter games.
Showcasing the best Intel Core 10th Gen gear
Now that we know how an Intel® Core™ 10th Gen CPU can boost your gaming performance, whether it's with a laptop or a desktop, let's check out some new machines that are powered by Intel® Core™ 10th-generation processors.
Acer Helios 300
Check out the Acer Helios 300. With its Intel® Core™ i7-10750H, GTX 2070 GPU and 144Hz IPS screen, it hits a nice sweet spot. The Intel® Core™ i7-10750 is capable of boosting up to 5GHz, making it a powerful and affordable Intel Core 10th Gen gaming machine. Laptops like the Helios 300 are so powerful that you can hook them up to a desktop gaming display or a 4K TV and game like you would on a desktop.
If you're after a gaming laptop that won't break the bank, but still has all the 10th Gen gaming features you'll need, consider a Lenovo Legion 5i. It's available with CPU options including a Intel® Core™ i5-10300H or Intel® Core™ i7-10750H. Wi-Fi 6 is standard as is a 120Hz screen that's perfect for fast paced gaming. Affordable 10th Gen gaming options can still deliver an amazing gaming experience.
MSI GE66 Raider
MSI's popular G-Series notebooks have been upgraded with Intel® Core™ 10th Gen CPUs. The MSI GE66 Raider is a Intel® Core™ 10th Gen laptop that really pushes the limits of current technology, with a display capable of up to a 300Hz refresh rate. This is exactly the kind of display that requires a fast 10th Gen gaming CPU to really boost your minimum and average frame rates.
The GE66 Raider features a very large 99 watt-hour battery, which can conveniently be charged over USB Type-C. Add in Intel 10th Gen features such as Thunderbolt 3™ and Wi-Fi 6 along with a dash of RGB lighting and quality keyboard and this is a laptop you'll be proud to own.
Razer Blade 15
Are you interested in truly portable gaming? The Razer Blade 15 is a very desirable bit of kit. The low-power characteristics of Intel Core 10th Gen mobile gaming processors make them perfectly suited to such a laptop without giving away anything in terms of gaming performance. You can configure the Blade 15 with various Intel Core 10th Gen options. Gaming on the go is better than ever. You get better battery life combined with an amazingly light weight, all while experiencing the best high-FPS and low-lag gaming performance. It's Intel Core 10th Gen mobile gaming at its finest!
MSI GS66 Stealth
The MSI GS66 Stealth is a slim and light gaming powerhouse. It comes in various configurations including options with Intel® Core™ i7 or even Intel® Core™ i9 processors! Like the GE66, it has an amazing high refresh-rate screen and large battery. You could easily travel with this notebook, using it for work in the day and gaming in your hotel room at night. This kind of laptop really shows off the amazing possibilities of Intel Core 10th Gen CPUs and their gaming prowess.
Mwave S606i Gaming PC
If desktops are more your style, have a look at this beauty from Mwave. The Mwave S606i Gaming PC is powered by a liquid-cooled Intel® Core™ 10th Gen Core i7-10700K. It can boost to over 5GHz and it can be overclocked even further thanks to its unlocked multiplier and powerful MSI Z490 motherboard. Add an MSI RTX 2080 Super, 3TB of storage and other key Intel Core 10th Gen gaming features such as Wi-Fi 6 and fast memory support and you won't be lacking anything in terms of performance.
That wraps up our Intel 10th Gen CPU showcase. Gaming performance is better than ever with Intel 10th-generation processors! Whether you're after a featherweight ultra-portable game-on-the-go laptop or an all-out desktop 4K mega machine – or somewhere in between – there's a feature-packed Intel Core 10th Gen gaming option to suit you.
Be sure to check out the upcoming Intel® Gamer Days, running from 28th August – 7th September, check out the great deals featuring Intel® Core™ 10th Gen CPU across the 10 days at the official Gamer Days site.
Disclaimer.
Performance results are based on testing as of April 17, 2020 in configurations and may not reflect all publicly available updates. Software and workloads used in performance tests may have been optimised for performance only on Intel microprocessors. Performance tests, such as SYSmark and MobileMark, are measured using specific computer systems, components, software, operations and functions. Any change to any of those factors may cause the results to vary. You should consult other information and performance tests to assist you in fully evaluating your contemplated purchases, including the performance of that product when combined with other products. For more complete information about performance and benchmark results, visit http://www.intel.com/benchmarks. 
All images from Intel are used with permission, and remain copyright to Intel®.
All laptops and desktops featured here are available at major retailer and resellers Australia wide.
[ad_2]

Source link