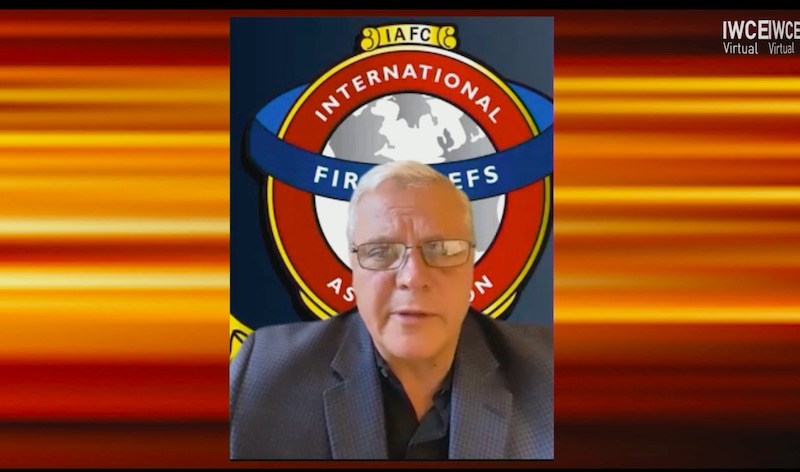 The future of public safety communications is inextricably linked to LTE and cellular technologies, according to Jeff Johnson, CEO of the Western Fire Chiefs Association — and those who keep asking, "When will Land Mobile Radio die?" are focused on the wrong question.
"People are always asking me, when will LMR die? Frankly, I think it's an irrelevant question. I think it's the wrong question," Johnson said in an address at this week's IWCE Virtual event. "I think the right question is, how will LTE change the current landscape for public safety responders? And to me, there's no magic here. It is about coverage, it's about backhaul, it's about reliability, it's about devices, it's about security and it's about functionality and feature sets — of all those combined things. And the fact is, all can be achieved through LTE. …  You have to say to yourself, it's not about LMR, it's about communications, and it's about reliable communications for public safety. It's not like public safety is slow to adopt — they're not. They're slow to give up something that works and what we're seeing with LTE is, it's proving itself to work. And if you can weave together public safety needs for reliability and coverage, and in-building penetration and reliability, then what technology it is begins to be moot."
Johnson said that while public safety leaders may often focus on how their departments communicate in response to calls, "The conversation is greater than that." If a large percentage of a jurisdiction's residents don't have cellular coverage, and the vast majority of 911 calls come in through cellular phones now, public safety users being able to talk to each other "is actually missing the point," he said. "We have to get the call and then have the ability to communicate on the way to the call. So you can quickly see that there is no way to disentangle the conversation about LTE and LMR.
"There is no question, in my view, that LTE is the future," Johnson continued. "When it happens? Here's when it happens. Public safety will switch to LTE exclusively the day some lieutenant in a fire station says to his battalion chief, 'Why do I carry two devices when all I ever use is my LTE device?' That's when it changes. It's when the people that use the tool, insist on this tool."
Johnson is a veteran of the fire service, a former member of the FirstNet board and a longtime advocate for a national public safety broadband network that has taken form as the FirstNet-AT&T public-private partnership. He heads up the WFCA, which focuses on wildfire, technology and the intersection of those two topics.
Johnson spent some time outlining the history that has brought public safety communications to its current state, including the long battles for spectrum, funds and an independent board that would oversee the development and management of the network and include representation from public safety. The FirstNet board — with members who had history in commercial wireless and/or public safety — understood that corporations' obligations are to its shareholders and "if we were ever going to make public safety a top responsibility for a wireless company, then we had to create a contract vehicle that made the interests of public safety, the same as their shareholders' interest," he said. "In other words, you fail to serve public safety, it was going to hit your share price. If you serve public safety, it was going to be good for your share price."
With the advent of FirstNet and more competition for public safety customers, he said, that has "led to a land rush" of carriers and companies seeking to take commercial technology and bring those solutions to public safety. The WCFA, he added, spends a lot of its time making sure that such companies understand the needs of public safety. "There is so much available in the commercial realm that is not mission-critical," he said. "Public safety will not accept it if it's not mission-critical — we can't." Companies who wish to serve this space, Johnson said, have to ask themselves not only if their solution serves public safety's needs, but if it does so in a way that they can trust their lives to.
As for public safety communications' future, he went on, there is a need for a "nationwide uplift" of Next Generation 911 (NG911) centers and for making Public Safety Answering Points (PSAPs) into "more of an intelligence center" as machine-to-machine applications such as automated license-plate look-ups take over more routine communications. PSAPs may see push-to-talk time decrease, he went on, but PSAP personnel will become the first to view live video or photos from a scene, coming in from surveillance cameras or the public, and will need to broker that information to communicate the most critical intelligence to officers in the field and command staff.
Johnson also said that helpful information exists that public safety does not yet have access to. He gave the example of OnStar service that can transmit the location of an accident, but nothing about the nature of the crash — even though seat weight-sensors and speedometer information might be available. "We would send an entirely different response to eight people in a Suburban that hit a tree at 80 mph than we would a 5 mph bumper-to-bumper crash on an interstate during rush hour," Johnson said.
What is still lacking at this point in public safety tech development, he said, is an ecosystem that supports a common operating picture, so that public safety personnel can easily and quickly access a holistic view of the data available to them.
Related Posts