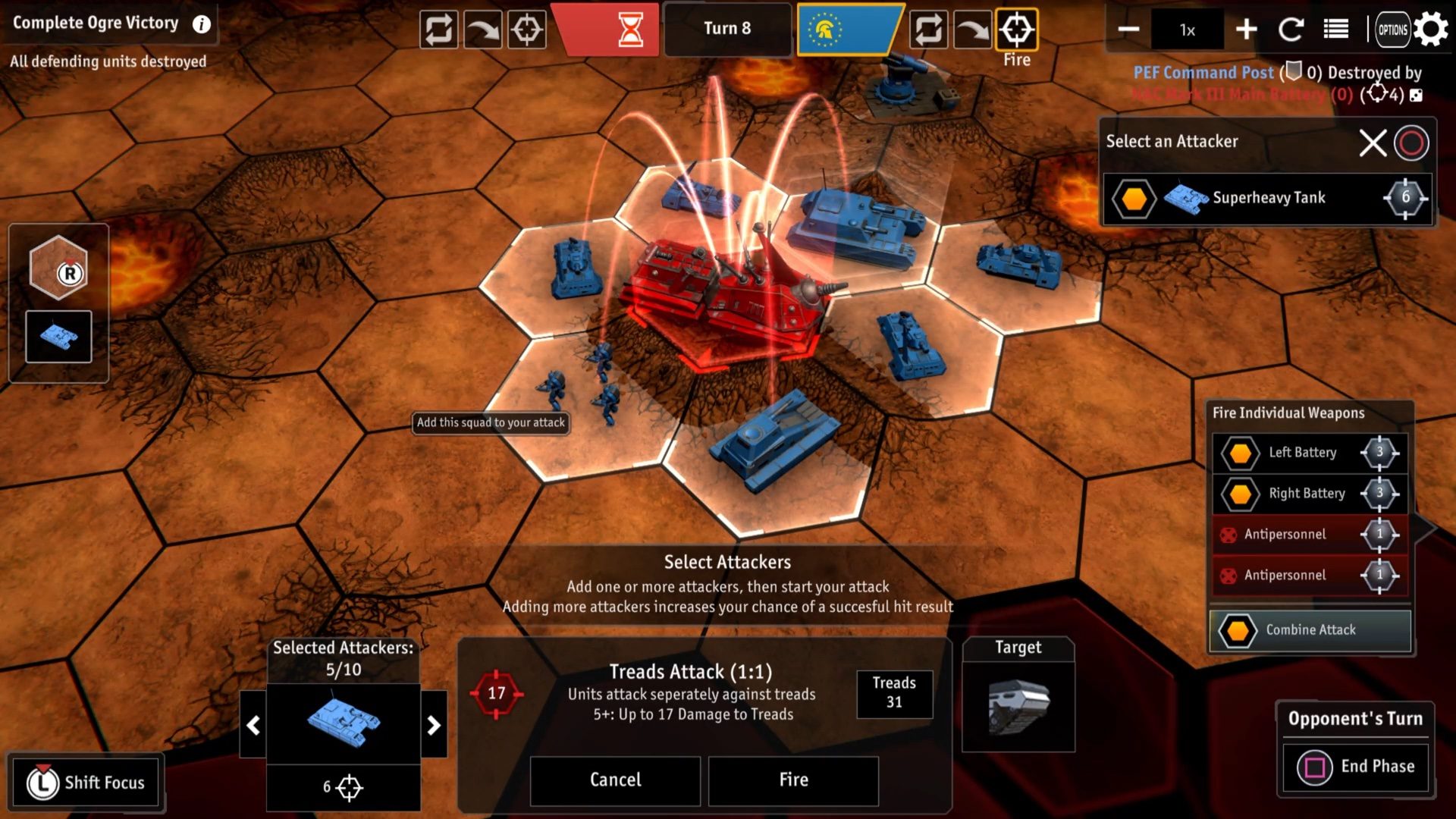 The official adaptation of the Steve Jackson Games legend and multi-award winning Wargame, Ogre is now available on the PlayStation. Exploding with mechanical warfare, this turn-based strategy game requires a lot of tactical choice and even more calculations. Based on the original board game created in 1977, this game will take you to another time.
Here are five reasons why we think you might like it.
Equip your strategy
The strategy starts when you choose the units you want to be in your dream team, where you want them to be located and which attacks are appropriate for the fight you are in. To roll the dice, and all you can do is sit back and watch your plans play in front of you.
Set in the near future
In a timeline that is not different from ours, the future is set in the near future. There are armed conflicts where a certain type of unit, Ogre, even among its allies, creates so much fear. Ogres are AI-powered, cybernetic tanks that are so powerful, they have the same firepower as tanks and infantry battalions. Get ready to immerse yourself in this multi-award-winning classic revived for the PlayStation.
As a player, you'll take command of Hovercraft, Tanks, Marines, Infantry, and even Ogres, as you take part in an endless world war. Strive for dominance in the (far-flung) radiated battlefield of the future.
Create your dream team
To choose from two different teams; You will be able to play as the North American Combine or Pan European Federation and then build your dream team from there. You will be able to choose from light, superheavy and missile tanks, GEV (Ground Effect Vehicle), Infantry, Marine, Howitzer and Ogres (Mark I – Mark VI) to create a different team each time you play.
If you want to continue improving yourself, you can perfect the teams you created until you think you have found the ground level. And then, once you find that perfect sweet spot, you can continue using the same team, using the same, invincible team every time. Create your final unit and use the train and command posts of your choice.
Super replayable campaign
There are many different ways to play Ogre, including multiple team building options, different teams to choose from, and lots of situations to try. Ogre's AI will constantly amaze you, where no two games will be the same. There are loads of different types of terrain, including bodies of water, to keep your battle going. Include terrain in your combat strategy, use defensive zones to protect your unit from attack, or use water bodies to stop the enemy.
And of course, don't forget to grab those trophies too! Add all of these to be able to repeatedly perfect your dream unit and you'll be able to find new and exciting ways to play Ogre every time.
Gameplay that has withstood the test of time
For over forty years, the tabletop game has stood the test of time, captivating players on both tabletop and then PC, and now we've brought it to life on the PlayStation. This release is the final PlayStation version of Ogre, with extended GEV rules, which came from the original sequel to Ogre, for further variation.
When the PC version was released in 2017, it was Ogre's first digital adaptation since the game's original creation in 1986, and since then Auroch Digital has been working hard to bring it to the PlayStation, and to make it the best it can be. Stay.
Discover for yourself the vast world of Ogre, now available on PS4 and PS5!