Whether you're following our Summer Games Fest announcements here or watching the latest studio news, we're excited to share what lies ahead for The Last of Us. Many of you have expressed how strongly The Last of Us series resonates with you, and we are humbled to express the community's passion and excitement towards the growing and evolving world and characters of the series.
We're glad to share that The Last of You Part II has sold over 10 million copies worldwide this spring. Knowing the support we have, our studio is looking for exciting, new ways to introduce curious listeners and awaken fans. With those opportunities in mind, let's talk about the vast future of The Last of Us.
Unique multiplayer
It's no secret that many of you are drawn not only to the end of our story but also to the game's original fiction multiplayer. Since the release of 'The Last of Us Factions' almost a decade ago, dedicated players have been vocal about expanding that offer.
However, we can finally announce that we are creating something much bigger than a mode. We are thrilled to share a part of the concept industry from our upcoming multiplayer experience, which is a very ambitious initiative. We're significantly expanding our studio so that we can create this full-scale, unique game, with its huge scope and huge world, in a way that fans would expect from The Last of Us and Naughty Dog.
Our goal is to make our new entry into the multiplayer so that new players are invited, although an exciting challenge for our more seasoned fans. More news to come next year, and we can't wait to introduce you to the team behind this new experience!
Our end in HBO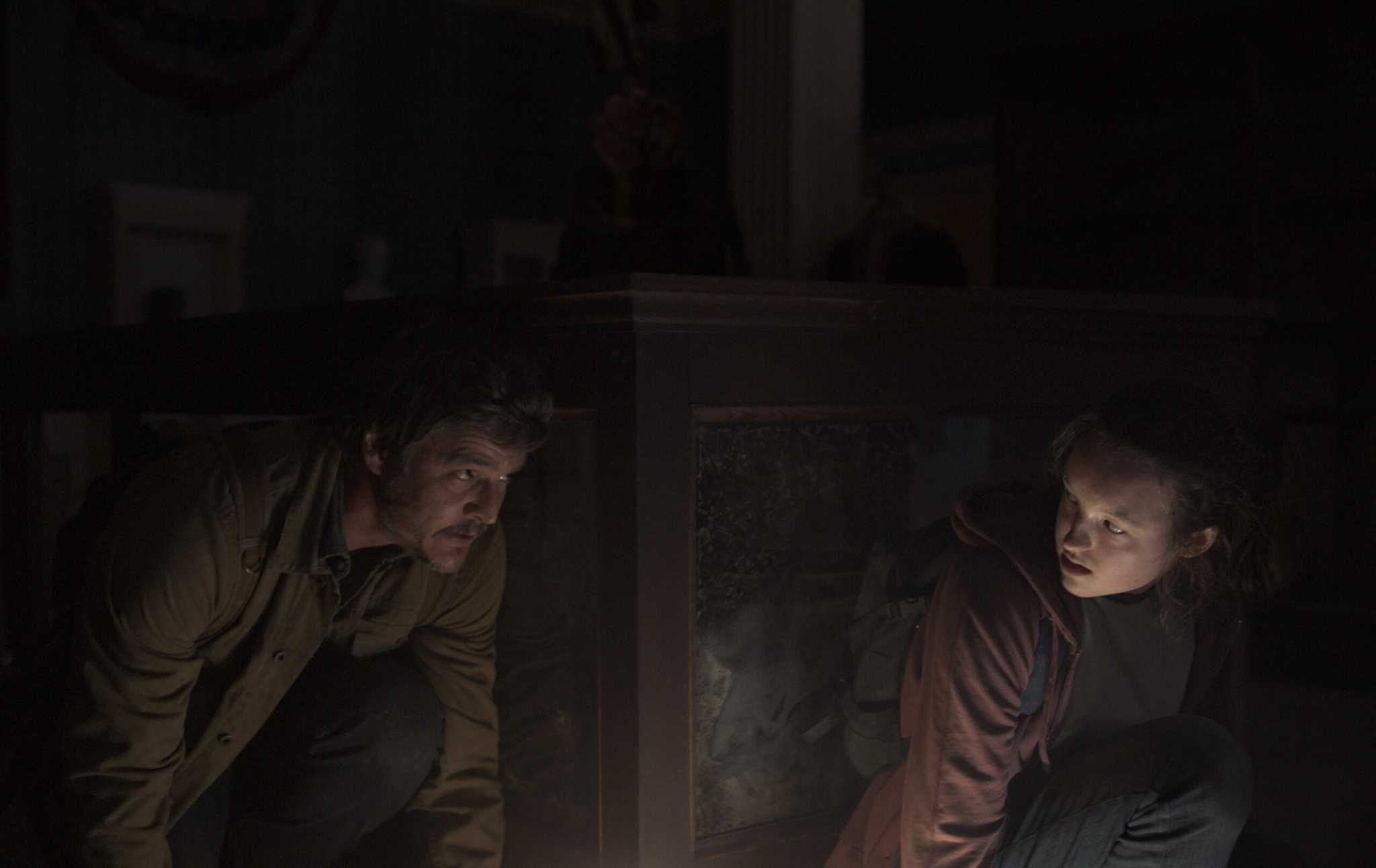 From the beginning, our main focus for The Last of Us' story has been cinematic and character-driven, and HBO has continued the same point of view to bring this story to worldwide TV screens with enthusiasm. Directed by Chernobyl creator and author Craig Magin, along with executive producers Caroline Strauss and Neil Drakman, the incredible cast and crew tried to faithfully retell the story and its intricately detailed world.
In a spirit of collaboration and authenticity, Neil has taken on the role of executive producer and writer and directed an entire episode. There has been a deep creative collaboration between our studio and HBO.
The worlds of video games and television continue to overlap as in-game actors Ashley Johnson and Troy Baker, Eli and Joel join the cast in lead roles. With new and longtime fans of The Last of Us we can't wait to see them on-screen.
Our last part I
The Last of Us was released on the PlayStation 3 console almost a decade ago and has left an indelible mark on our studio. The story of Joel and Eli is going to be a powerful stimulus with players around the world, and we are humbled that these characters are leaving an impression.
We are thrilled to announce this complete remake of The Last of U, with technology and hardware improvements that push the limits of our visual fidelity and interactivity.
We've implemented modern gameplay, improved controls and extended accessibility options in this single-player experience to allow more people to enjoy the game. Impact, exploration, and combat have all been improved. Using the PS5's powerful hardware, we've also implemented 3D audio *, haptics, and adaptive triggers. Returning fans and newcomers alike will have the opportunity to experience The Last of Us Part I and its prequel story Left Behind in a whole new way.
For the remake, Neil hired game director Matthew Gallant and creative director Shawn Eskeg to direct the baton to revitalize the project. Matthew joined our studio a decade ago to work on The Last of Us and Uncharted 4: A Thief's End. He was the lead system designer at The Last of Us Part II and was the co-head for over 60 accessibility features. Shawn was the lead cinematic animator in The Last of Us and Uncharted 4: A Thief's End. Shawn will later become the creative director of Uncharted: The Lost Legacy. With their deep creative and technical skills with the series, they are well suited to handle this project, and you will soon hear more about The Last of Us Part I from them.
In addition to the trailer, we're also pleased to announce that you can pre-order The Last of Us Part I for PS5 this afternoon at 4PM PT **. We've partnered with PlayStation to develop multiple versions of the game:
The Last of You Part I Standard Edition (D 69.99 USD MSRP / $ 89.99 CAD MSRP / € 79.99 EUR MSRP /, 7,900 JPY MSRP).
The Last of Us Part I Digital Deluxe ($ 79.99 USD MSRP / $ 99.99 CAD MSRP / € 89.99 EUR MSRP /, 8,900 JPY MSRP) Includes an initial unlock of the following in-game items:
Increased crafting speed efficiency
Increased healing speed efficiency
9mm reload speed increase upgrade
Rifle clip power upgrade upgrade
Explosive Arrow Gameplay Modifier
Dither Punk Filter
Speedron mode
Six Weapon Skins: Black Gold 9mm Pistol, Silver Filigree 9mm Pistol, Rubber Tactical Shotgun, Scalloped Oak Shotgun, Arctic White Bow, Carbon Black Bow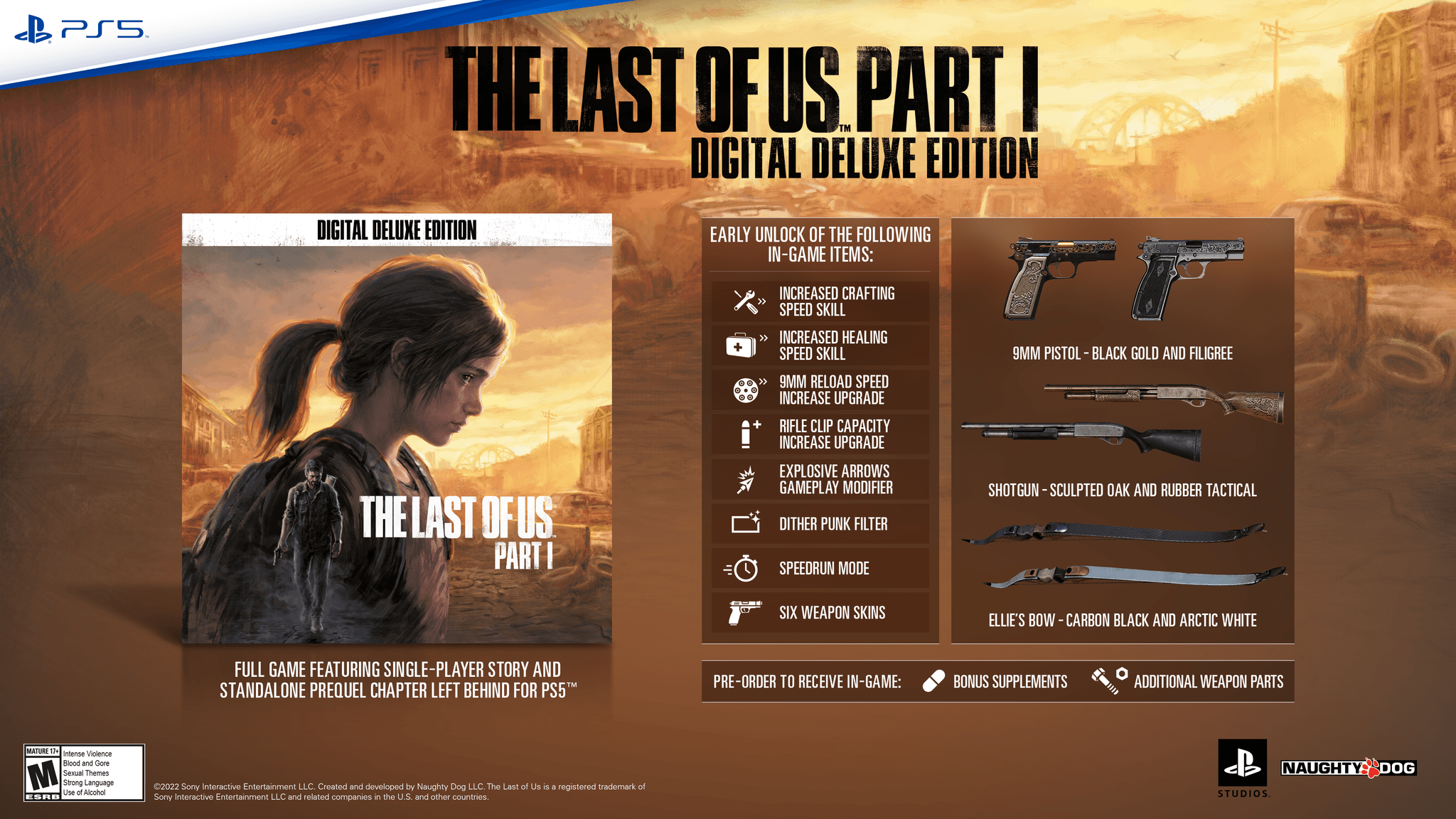 The Last of You Part I Firefly Edition ($ 99.99 USD MSRP) United States via direct.playstation.com The digital deluxe version only includes an in-game introductory unlock bonus as well as a SteelBook® display case and a new cover art for each comic from The Last of Us: American Dreams Comics # 1 to # 4.
If you pre-order any version of The Last of You Part I ** for the PS5, you'll find the following in-game items ***:
Bonus supplements to upgrade your skills
Part of the bonus weapon to upgrade your arsenal
We look forward to sharing more in the coming months for the release of The Last of Us Part I. Your love and passion for our games is truly inspiring, and we're very proud to share this experience with you.
Endure and survive!
__
* 3D audio via built-in TV speaker or analog / USB stereo headphones. Must set up.
** Depending on your region, actual versions may take some time to appear. Check with your selected local retailer for inventory and availability.
*** Pre-order bonus is not available in some regions. Check with your selected local retailer for availability.