Graphics tablets come in all shapes, sizes, and prices, but until recently, there has been very little competition in the space. This left potential users with very few and often very expensive options. That's the market the Veikk VK2200 Pro enters and is trying to change.
While the majority of the pen tablets are limited to a solid colored "drawing surface" that still makes you look to your computer screen to see what you're doing, graphics tablets allow you to draw more naturally because they enable you to paint and retouch directly onto the screen, making it feel as though you were working on an actual canvas. Basically, when an artist, graphic designer, or photo retoucher makes the jump from a pen tablet to a graphics tablet, it feels like a massive upgrade, as well as feeling much more ergonomic and natural.
As I said in my VK1060 Pen Tablet review, with the influx of these new brands, many of them offer impressive quality at an incredibly affordable price. While not as cheap as a pen tablet, the $499 VK2200 Pro is still a fraction of the cost of many of its competitors. That price must come at some cost, right? Just how good is it compared to the industry veterans?
While I admit, I am no professional painter, illustrator, or designer, display tablets are still some of my favorite to work on. Since this graphics tablet costs less than almost every other competitor of its size, if it works even remotely as well as the company promises, it would make an amazing tool for beginners to learn on.
Design and Build Quality
The VK2200 Pro offers a 21.5-inch 1080p IPS display that can be drawn on from edge to edge. Like the VK1060, this tablet comes with a "smudge glove" so your hands won't stick to the display surface or leave any unwanted marks on your screen while you work. The VK2200 Pro is also a wired-only solution that connects with a USB-C cable and an HDMI, as well as a separate power supply that needs to be plugged into an outlet.
The display itself (when powered off) looks almost identical to the surface of most normal pen tablets. The display is only active when it is powered up — the button for which is on the bottom right rear side of the device. The other buttons on the tablet are for accessing its menu system where you can make manual adjustments to things like the brightness, color temperature, contrast, and display resolution.
On the front of the display, you'll find eight programmable buttons for the most frequently used tools of their preferred apps, as well as two (also programmable) jog-dial buttons for things like rotation, zoom, and scrolling.
On the rear of the tablet, you'll find the adjustable stand that offers users a wide range of screen tilt/angles allowing you to position the tablet in any position to suit their workspace needs. For tho who prefer, it can even be laid flat, with its base elevating the tablet a little over an inch off of your work surface.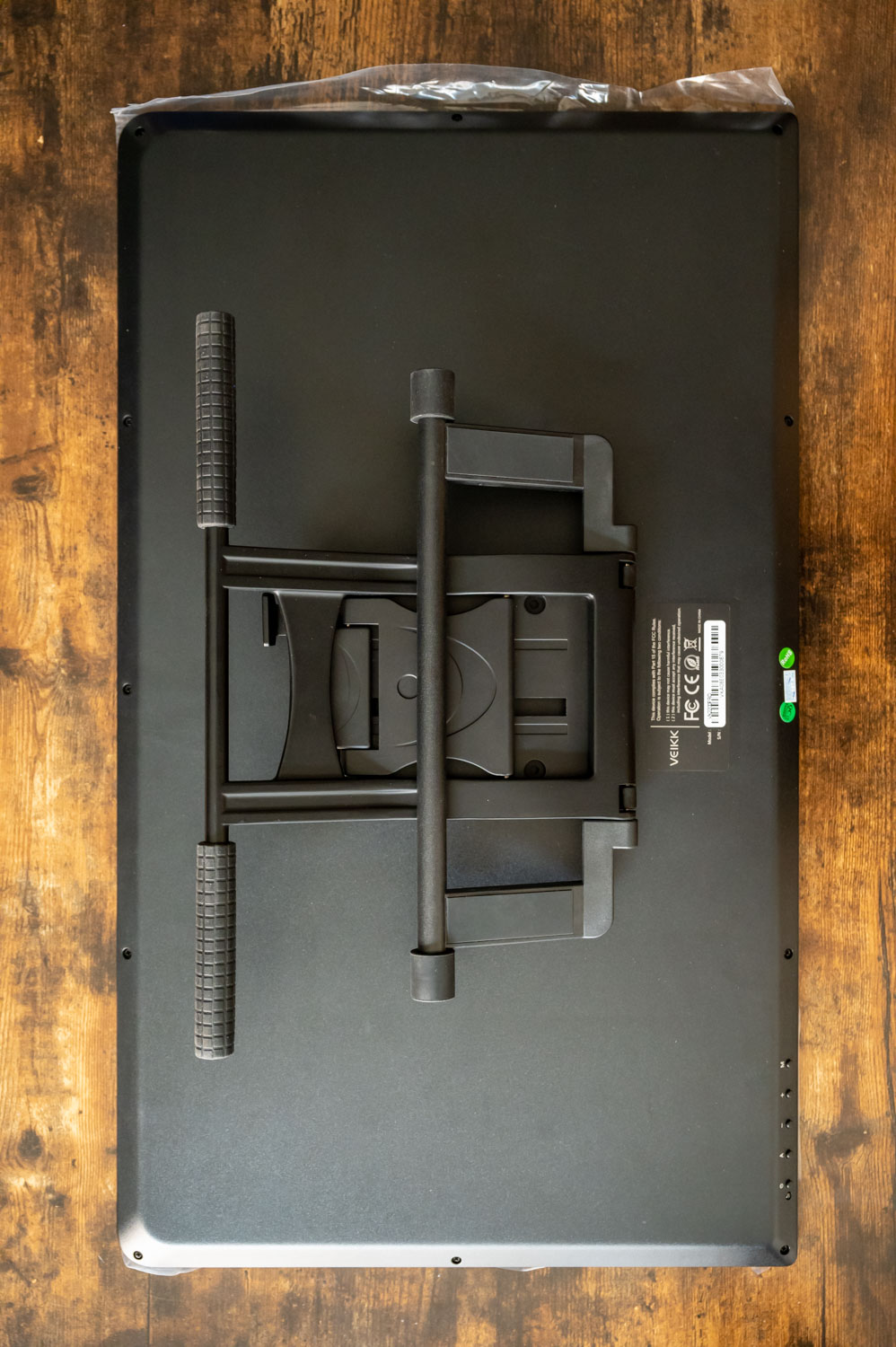 Also included in the box are the cables (mentioned above), pens with soft pouches for travel, a pen stand with extra nibs, a cleaning cloth, a nib-removal-tool, a quick start guide, and a postcard with the driver download instructions.
The Tablet and Screen
The VK2200 Pro display tablet can only be described as big. It's huge, and will give you a massive amount of space to work with. As someone coming from using a small pen tablet for the majority of my career, it was and still is quite an adjustment to get used to.
But that amount of space is very welcome to work on, especially for beauty photos where I need to get up-close and personal with every single pore of someone's skin. The size makes micro edits easier, and even sometimes fun to do — at least when compared to doing those repeated motions on a small pen tablet while staring straight ahead at a monitor.
The tablet itself feels very sturdy and durable. I accidentally bumped it around when setting it up a little harder than I would have liked, and there wasn't a smudge, scratch, or defect internally to be noticed with it. The stand's rubber feet allow for some very secure positioning when under heavy use, my table wobbled more than I was able to make the tablet shake.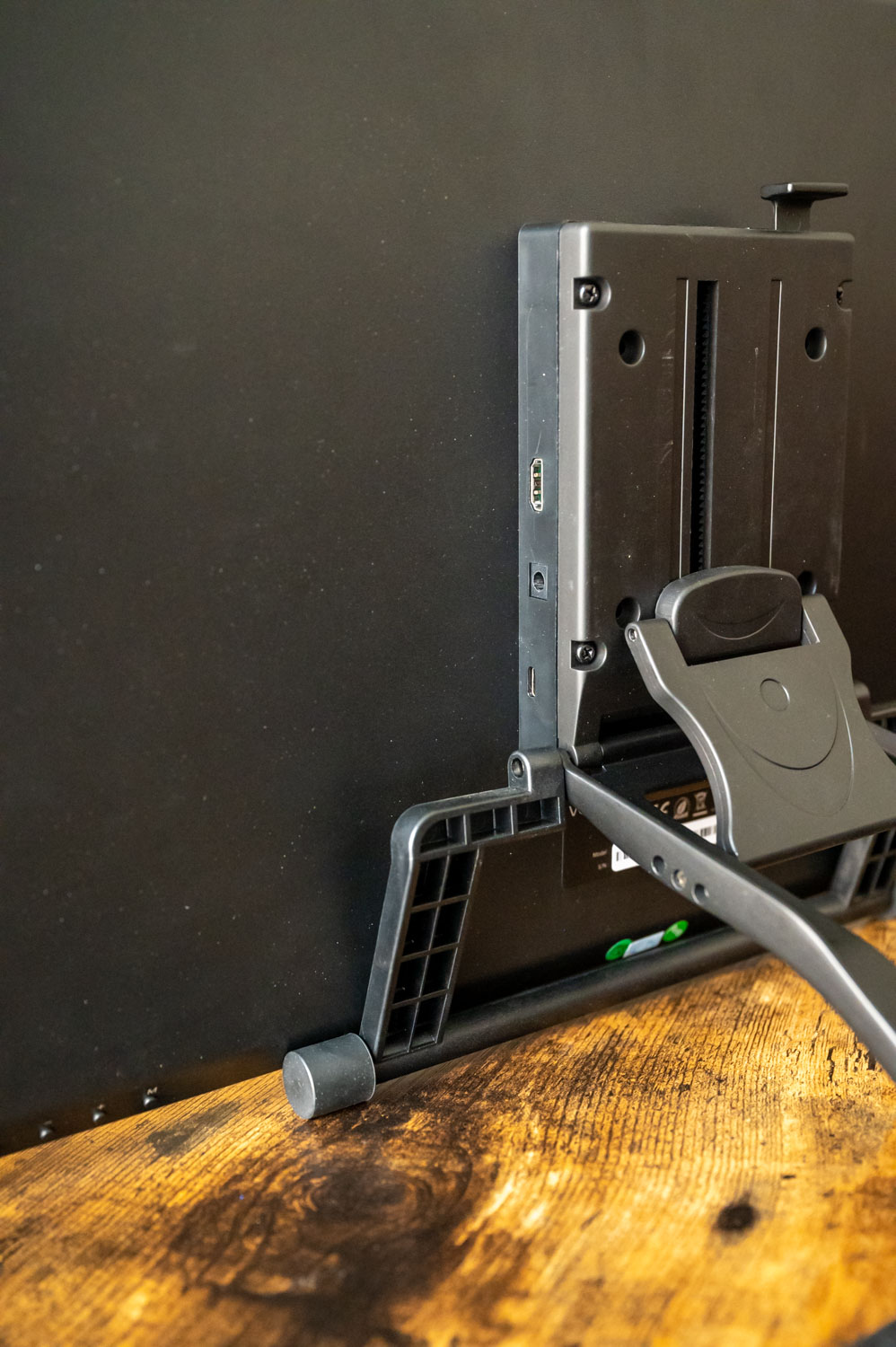 The cables all connect from the right of the device (when facing the screen side), but the cables are long enough that you can position the tablet comfortably in whatever position you prefer. That means you can switch between the right and left sides without any real issues, however, the buttons will always be on the left side of the tablet, making it a little bit more difficult for left-handed users to take full advantage of the design.
Ideally, it would be nice if the display could be "flipped" using the stand so that left and right-handed users would swap sides as needed for easier use, or by adding an additional set of buttons (mirrored) to the other side. These changes would likely add a bit of complexity to the design as well as additional costs, so I understand why Veikk opted for what we have here.
Like the 1060 tablet, after you download the necessary drivers you can choose your working area and have the tablet either act as a mirror to the computer's primary screen or it can be an additional standalone monitor. You can also customize the programmable buttons and make several usability adjustments.
Veikk says the display can reach a resolution of 1920×1080, but on both my M1 and Intel-based Macs, I was only able to get a maximum resolution of 1600×900. I don't doubt that it should get at least to Full HD, but I wasn't able to see that and will chalk it up to a firmware incompatibility. Not only is the resolution low, but the default brightness is also lackluster especially compared to my main monitor. Luckily you can increase that brightness and since it's a display, you can use a calibration tool like a Calibrite to get a little more accuracy out of the device's display.
Moving onto the surface, it feels rather scratch-resistant. I did some rather heavy and excessive drawing to test this out and didn't see any noticeable issues. I'd imagine that after long-term, continued you will see some visible wear, however, a search of reviews from other users showed a rather positive response to the longevity of the display, which is a great sign.
That being said, it is somewhat of a dust magnet. Comparing it to the screen of my laptop sitting right next to it was night and day. My laptop had nearly nothing on it, yet the tablet had a very fine layer of dust over it after just a few hours of use. Basically, you'll want to keep a microfiber cloth close by.
The Pen
The pen is pretty much identical to the one shipped with the VK1060 tablet and is just as responsive and accurate. The pressure sensitivity out of the box was pretty accurate to what I would use for my retouching. The pen, much like the Wacom pens, comes with two customizable buttons and has a pressure-sensitive nib that can be replaced with the provided extras in the box (and in the pen stand).
The stand for the pen is identical to the 1060 unit which also includes the twist-off top that contains the spare nibs should the one you're using wear out and need replacing. Also, just like in my 1060 review, the pen for the 2200 Pro does not contain an "eraser" button, which makes the process of erasing a bit more tedious and drawn out.
The pen features 8,192 pressure levels and a 60-degree tilt function giving users a realistic feeling "brush" to create with on the tablet, and best of all, there is no battery in this pen, meaning you never have to stop using it to recharge.
Usability and Performance
After installing the driver, the display worked immediately without having to do any manual configurations. That being said, there were still a few hiccups.
First, there is a strange bug in the setup on my Intel-based Mac. FOr some reason, the Veikk tablet shows up as two separate displays, and behaviorally, it adds a little bit of a "buffer" or dead space between your laptop/primary display and the one you'll actually use to edit with on the tablet.
This behavior didn't show up on my M1 Mac Mini, but I believe the behavior may have something to do with the laptop's built-in display as opposed to the external monitors of the Mac Mini. I reached out to Veikk for a comment on this and am waiting for technical support to get back to me on it. I'll be sure to update this review as soon as I hear back.
As for the rest of the settings, they were pretty self-explanatory. You can adjust the pen pressure and customize the programmable buttons and dials on the tablet and pens to be your most commonly used tools for all of your favorite apps. Additionally, users can run a calibration on the display should they start to notice any odd pen and touch sensitivity behavior, ensuring they get the most screen space and accuracy out of the tablet possible.
It is also worth noting that if you happen to have another tablet driver installed on your computer, there could be some "wonky" behavior from the Veikk tablet. In my scenario, I had my Wacom driver installed and occasionally the Veikk settings would appear invisible.
Simply closing and reopening the settings panel for the tablet would often make this go away, but it is an odd and noteworthy behavior to be aware of. Veikk says it is aware of this issue. Regardless of your setup, you'll need to reboot your systems before the tablet can be used properly. Like the VK1060, once the installation is complete, it does not prompt you to reboot.
An issue I found on the VK1060 is also present with the VK2200 Pro and occurs on both the Intel and M1 Mac Mini: if I attempt to use the "check for update" tool in the settings, the app returns an error and crashes out of the preferences pane. It doesn't seem to cause any actual usability problems and is just a frustrating glitch to be aware of until the next software update is released.
Pen Pressure and Using the Tablet
The pen itself is actually much nicer and smoother to use on the VK2200 Pro when compared to the VK1060. Surprisingly, there were practically zero jitters when using the pen. In fact, the only time I could replicate the "jitters" is if I just let gravity connect the pen to the surface and slowly dragged the pen across the tablet, and even then it was barely noticeable.
When using the pen as a brush normally, it was incredibly smooth with no shakes or wobbles whatsoever. I guess the "Pro" designation isn't just marketing, as the pen's responsiveness was actually even better than my Wacom tablet.
Given how smooth it performed and how affordable this display tablet is, I am thoroughly impressed. Retouching with the pen was a breeze and it was great to not have to look away from the pen to see what I was doing.
One last bug worth noting is that it doesn't seem to get along well with some of my audio software or my Loupedeck controller. For some reason, when these apps are active, it would actually cause an input lag on the display tablet. This does happen with the VK1060 tablet, so I am assuming this has to do with the HDMI and USB-C communication for some reason. I've also informed the Veikk support team of this and am waiting to hear back.
Low in Resolution but High On Performance
I did not expect much from Veikk given the lack of brand recognition and the low cost of its products, but I stand impressed. While the screen on the VK2200 Pro may not be the best, especially on Mac, it feels like enough that someone new to the display tablets can affordably start here before upgrading in the future. The screen is very responsive and worked great with Photoshop and Lightroom. Also, when not being used as a tablet, the display made a great additional monitor for my laptop to watch some Netflix on.
The 21.5-inch screen looks great and the buttons and dials are useful, customizable, and responsive to the touch. The stand is sturdy and easy to adjust and it comes with a ton of accessories and spare parts should you ever break or lose a nib or even an entire pen.
Overall the VK2200 Display Tablet is incredibly easy and comfortable to work with and performs better than I expected with Photoshop and Lightroom for a very low price of $499. Other tablets do offer a better resolution, brighter displays, and even a better pen-responsiveness, but those features tend to cost at double what Veikk is asking.
Are There Alternatives?
There are a few alternatives in the tablet market from the usual suspects and range in price from $479 to $4,000. First up is the XP-Pen Artist Display 22 R Pro that costs $479 which might be the closest one-to-one alternative to the VK2200. Also worth considering is its higher resolution sibling, the Artist 24 Pro which costs $899.
Wacom has a lot of options of course, including the Wacom Cintiq Pro 16 that runs $1,500 or the Wacom Cintiq Pro 24 for $2,000. The 13-inch Wacom One comes in at $400 which is more in line with the VK2200's price, but is a lot smaller.
Another display worth considering is Huion Kamvas Pro 22 that costs $799 and comes highly recommended by PetaPixel's DL Cade.
Should You Buy It?
Yes. While there were some hiccups with the software and the isn't particularly impressive, if you're looking to get started working with a display tablet, you can't find one at this size for a more affordable price that also offers as responsive a screen and pen.